Jazz singer-songwriter Samantha Fierke's mesmerizing "Mirage" is a journey to self-discovery
The debut album that gains national release on Nov 18 is receiving Grammy consideration in five categories.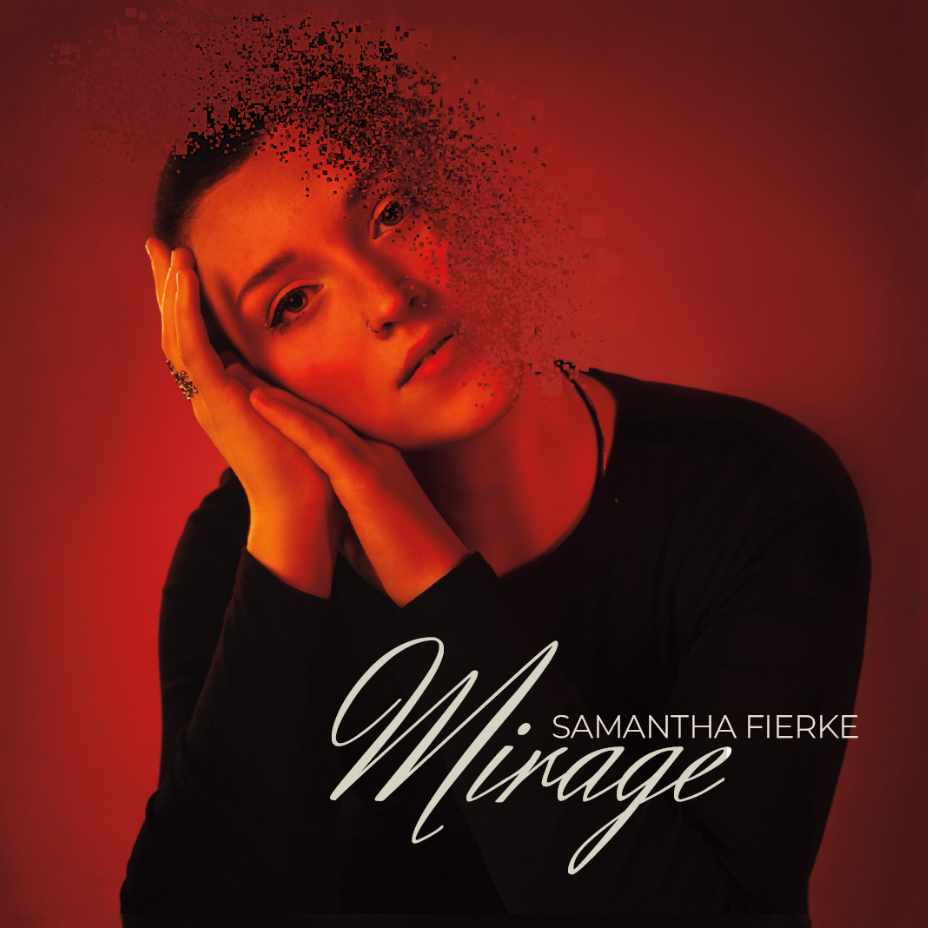 BOSTON (17 October 2022): So much of jazz singer-songwriter Samantha Fierke's world was not as it appeared as they worked on their debut album in the midst of the pandemic. Still a teenager at the time, Fierke had not yet been diagnosed as autistic and was "finding their place in the world through their queer identity," all while fear, economic uncertainty and civil unrest gripped the US. Writing poignantly about the contrasting feelings of hope and despair amidst chaos and turmoil, Fierke composed the resonant lyrics to the arresting "Mirage," the title track to the acoustic jazz vocal album produced by Loyd Warden receiving its national release on November 18.      
When they began crafting "Mirage" in 2020, Fierke had deferred their first year at Berklee College of Music and also had to push back recording the album due to pandemic restrictions. The delay afforded Fierke's music time to mature, songs that explore the pain they endured while masking their autism in an abusive relationship; fantasizing romantically about a woman; express the rage and power of their generation in response to the politics of our times; the pain and anger of betrayal; and emerging from darkness with hopeful anticipation.
As restrictions eased last year, Fierke entered bassist Mickey Jamieson's home studio in Columbia, Missouri where they recorded live accompanied by a trio comprised of Jamieson, keyboardist Samuel Luetkemeyer, and Warden on drums and percussion.
Taking stunning command of the mic to sing and scat like a seasoned and skilled veteran, the eight songs on "Mirage" pour from the twenty-year-old singer's being rife with raw emotion, intimacy, intensity and brazen authenticity. Despite difficult and deeply personal subject matters, Fierke shares their poetic narratives while peeling back the protective layers. Their voice never waivers, exhibiting astonishing beauty, poise, strength and grace amidst the embers of heartache and glimmering rays of optimism. Working with melodies and rhythms constructed from jazz, fusion, global folk, funk and sophisticated pop, sonically the tracks on "Mirage" are artfully assembled, sparsely rendered tapestries that provide dramatic shading, sensual grooves and moody melodic enhancements illuminating Fierke's tales.
"Mirage" opens with a tribute to Chick Corea on the astutely rhythmic "Kick It Loose."
"Chick died as I was still writing it and immediately, I knew it was for him.  It is a song for the musician's soul, to remind us that we are not simply a commodity to be bought and sold. Music is not between audience and performer, but among a communal group," said Fierke who released a five-song EP of standards in 2018 titled "Sam."
While there's a touch of whimsy on the swinging "I Remember Butterflies," the lyric reveals lost innocence.
"My childhood was outdoorsy and playful, thanks to my mom and her garden. I recently noticed that the swarms of butterflies that used to greet me every summer are now down to one or two pairs of wings at a time. It is a mourning."
Jamieson literally got down on his hands and knees to record the sound of water droplets to provide interesting percussive texturization on "Shower Song."
Fierke explains, "Sometimes life – or some sour soul – hits you like a brick with so much force that all you can do is let the water wash it away until you are well again. I wrote this to process the pain and anger handed to me by someone I called a friend."
The journey of self-discovery became very real for Fierke a little over a year ago when they finally received their autism diagnosis. Five years earlier, they began writing the lyrics to "Color Me," even without knowing what they were fully about.
"They were the heartbroken words from a young me drowning to change myself, mask myself, in desperation that the abuse I was receiving in a relationship would stop. The song is not as cheery as it seems and that is precisely the point," Fierke said about the track that was issued last spring as a "teaser single."
"My autism was harder to identify at first due to my ADHD, which can sometimes make the behaviors look different via opposite extremes competing for exposure. When I received my diagnosis, all the sudden my life and all my experiences made sense. Putting the pieces together was extremely liberating in some ways, but it also revealed a lot of deep pain and heartache that I've experienced due to being autistic. And it hurt to realize that if I had supports in place all along, I may have lived a very different life and avoided a lot of trauma."
The haunting and unsettling "Mirage" is the session's centerpiece. The track varies in tone and tempo, propelling the experience along.
"When I began writing 'Mirage,' it became clear how heavy it was. This song wrote itself and I simply uncovered it. I cannot explain it properly other than to describe it as desperation and perseverance. In the process, I saw my songwriting solidify into something that felt more authentic and sacred to me than anything I had ever written. Though the words were simply revealing themselves to me without much literal understanding on my part, I knew what it was about. I knew the feeling of the mirage. It is a reflection on the desperation to hold onto hope. It is a timeless feeling but writing it during this momentary 'falling apart of our world' felt so heavy. The song speaks of a journey through a desert that seems to never end even as the lyrics beg to keep going. It is simultaneous hope and despair. Once I felt how this song lingered in my stomach, I began to build an album around it — some old and some new tunes, but all my own songs. Even still, I'm connecting the dots that my intuition already put together, linking all the songs together back to the center of 'Mirage.'"
The amorous "Sweet Girl" finds Fierke daydreaming about a queer romance.
"It was a peaceful image in my mind come to life through song written with a heart full of love by a young queer soul. It is a fantasy of peaceful feminine domesticity. Nothing close to what I was told of domesticity. It is a painting of queer love with no distinct names or faces," said Fierke who identifies as bisexual and gender queer.
"When People Speak" has roots dating back to 2016, which Fierke wrote in response to the emerging political climate of the time that continues to this day.
"This song grew and festered in me, built out of rage and power with hope for what could be. It is the overwhelm our generation is far too used to. It wasn't intrinsically political, but it was definitely a reflection on what it felt like in the world at the time. Still feels similar. It's just four chords, but it's an immensely complex and intimate song. It takes so much trust to play it the way it's meant to be," said Fierke.
The set closes with "Smile Again," a lilting groove anchored by Luetkemeyer's nimble keys. Conceived while vacationing on a goat farm with her lover, Fierke wrote as he slept.
"My partner deals with a lot of really intense mental health issues and sometimes my role is to see the hope that he's struggling to find. The song is more about celebrating the inevitability of happiness. It's not explicitly for or about him, but he's the biggest influence, especially in the later verses," Fierke shared.
During the "Mirage" recording and arranging process, Fierke received guidance from Grammynominated jazz vocalists Gretchen Parlato, Jane Monheit and Oleta Adams as well as Grammy winner Taylor Eigsti, mentors and role models who have taken an interest in the promising singer-songwriter. Last June, Fierke finally shared the album in two cities: their hometown (Columbia, MO) and Boston where they're now a college sophomore. Another Grammy winner, Brother Paul Brown (The Waterboys), got hold of the collection and submitted the album for Grammy consideration in five categories (Jazz Vocal Album, Producer of the Year, Non-Classical, Album of the Year; Arrangement, Instruments and Vocals; and Best New Artist). Encouraged by the buzz and critical acclaim in Fierke's two homebases that was growing organically, a plan came together to take "Mirage" national.
Two days after "Mirage" drops, Fierke will perform at The Jungle near Boston on November 20.
"Mirage" contains the following songs:
"Kick It Loose"
"I Remember Butterflies"
"Shower Song"
"Color Me"
"Mirage"
"Sweet Girl"
"When People Speak"
"Smile Again"
For more information, please visit https://samdoesjazz.com.  
#  #  #